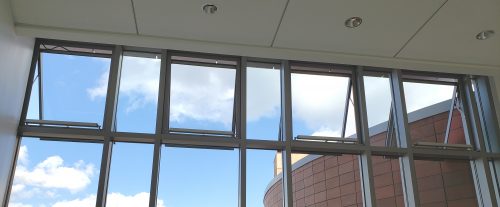 High level windows can be impossible to reach.  Switch activated motorised window openers (or actuators), are the perfect solution for roof and high-level windows.  Easy action motorised window opening means you can adequately ventilate your building whenever required.  Improved natural ventilation air flow will create a better interior atmosphere and boost worker productivity with a touch of a button.
Natural ventilation occurs when the indoor climate of a building is controlled by fresh air through the facade and/or roof windows, which open and close automatically to adjust to target levels for indoor temperature and CO2 levels.
Decreased CO2 levels and fresh air in schools and office buildings have been proven to be more conducive for learning or working environments and significantly improve productivity. Children's ability to learn increases by up to 15% with the provision of a good indoor climate (International Centre for Indoor Environment and Energy).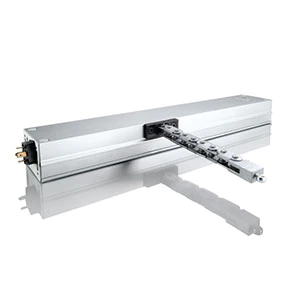 Approximately 90% of the average person's time is spent indoors. The air in a naturally ventilated room feels fresher than in traditional ventilation solutions because there may be some variation in temperature and air circulation as it would occur naturally outdoors. For this reason, greater comfort levels are achieved in naturally ventilated buildings than with mechanical indoor solutions.
Low voltage actuators are both safe and cost-effective.  They are the perfect way to power you window's opening. We offer a complete range of high-quality window control products, able to satisfy very requirement (new projects only).
Contact us at tenders@citywindow.com for a no obligation free quotation for new commercial windows and automated window control systems for natural ventilation.