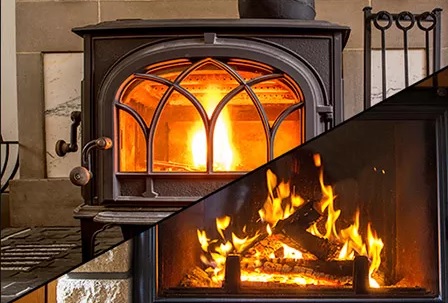 If you are looking at replacing the glass on your wood stove or fireplace, we specialize in providing wood stove/fireplace glass tailored to your specifications.

Most North American fireplaces and wood stoves have either tempered glass or high temperature glass-ceramic. Tempered glass is most often found on low temperature and economy fireplaces, while glass-ceramic is found on higher end fireplaces and most wood stoves. The difference between them is that tempered glass is less expensive, but it's not suitable for many applications.

The problem with tempered glass is that it cannot survive high heat. It will break when heated above a few hundred degrees. Also, tempered will shatter if its suddenly cooled (spill a drink on it, or drop some snow on it while loading your stove). Another shortcoming of tempered is that at modest temperatures the glass will 'lose its temper' over time meaning that its safety aspects will decline as you use your fireplace.

We use PyroCeram which is heat-resistant glass-ceramic that can tolerate exceptionally high temperatures up to 1,256 degrees Fahrenheit. In actuality, it is a clear version of ceramic. It is also effective in blocking UV light waves.

Manufacturers use a special rating system for evaluating the strength of ceramic glass when shocked by a change in temperature. This rating system is called Thermal Shock Resistance. PyroCeram has a high thermal shock resistance. When cold water is poured on hot PyroCeram, it does not crack or shatter the way standard annealed glass would. Having a high thermal shock resistance rating makes PyroCeram an excellent choice for replacement glass in equipment that is exposed to high temperatures. This makes it an excellent choice for woodstoves and fireplaces.

Often times once your woodstove glass breaks you attempt to get replacement glass from the original manufacturer, only to find out they no longer make it for the model you have, or that the wait time until you receive your glass is weeks. If you are in need of replacement glass for your woodstove or fireplace, City Window & Glass can replace it within 24 hours. Just give us a template of the glass needed and we will custom cut it. You'll be back to enjoying your wood stove within 24 hours.

Curious if this might be the best type of glass for your project? Contact us and we would be happy to help.
PYROCERAM CERAMIC GLASS