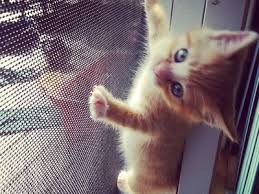 If you have a dog (and I am assuming you do), you know that our beloved pups have a special talent for destroying screened doors.
If you love your screen door and don't want to mar it with a grill or pet door, we can actually remove your existing screen and replace it with a heavier-duty variety, which will withstand your dog's claws with ease.
Aluminum and fiberglass screens are a time proven way to control pests. But, if you have a dog or cat, they can rip or damage screens by jumping, leaning or scratching them. Our Pet Screens are made from vinyl coated polyester and are seven times stronger than traditional screening and are puncture-resistant to prevent damage by dogs and cats.. Also great for heavy wear in high traffic areas.
Whatever your needs are we at City Window & Glass can help. Give us a call at (905) 525-7470 or visit our Walk-In Service & Repair Centre at 208 Queen St. N. at Barton.