Through our many years of service as a commercial glazing contractor, City Window & Glass has been a respected source for custom glass design and installation for a wide variety of industries. From finish curtain wall, glazing, 24/7 emergency repair and maintenance solutions for commercial, industrial and public sector clients directly and as a subcontractor to a growing network of architects, general contractors, maintenance companies, property managers, and affiliate businesses. With each installation or repair we aim for complete customer satisfaction.
Our bonded, licensed, insured and unionized (International Union of Painters and Allied Trades Local 1795) tradesmen respect the leadership at each worksite, working for the general contractor and other trades. Union or non-union we're all on the same team with one goal to get the job done professionally on time and on budget.
At City Window & Glass we also have the ability to streamline the production of shop drawings with our in-house draftsmen and printing capabilities. This allows the production and printing of your shop drawings to be completed as quickly as possible. Working with local engineers, we are able to produce stamped and sealed shop drawings and full engineering schedules for any project.
Whether your design includes a traditional custom storefront or a complex curtain wall system, our company provides full service engineering for all your commercial glazing needs. City Window & Glass is a proud Kawneer Authorized Dealer since 1988.
General Glass, Window, and Door Services
Perhaps your office needs glass repairs from Hamilton's cold, windy winters. Or maybe you are looking to give your business a facelift. Either way, we provide a wide range of services for residential, commercial, and industrial sectors. In addition to glass repairs, we also furnish and install:
Custom Aluminum Storefronts / Vestibules
Glass and Aluminum Curtain Walls Systems
Translucent Wall Systems
Aluminum Windows
Custom Skylights
Tinted & Reflective Glazing
Mirrors / Convex Security Mirrors
Energy-Efficient Glass Installation
Patio and Balcony Doors Installation
Industrial Fire Rated Metal Doors
Commercial Interiors Glass Partitions
Frameless Entrance Doors
Store Interiors / Display Windows
Restaurants - Counter Tops / Sneeze Guards
Reception Area Sliding Windows and Doors (Doctor, Medical, Bank, Check Cashing)
Shatter Resistant Security Film / Solar Film Solutions
Glass Balustrades / Railing Glass Systems / Glass Showcases
Customer Satisfaction
Our team is fully licensed and insured, so you can trust us with all your glass, window, and door needs. From the start of a project to its finish, we assist clients with product selection, fabrication, installation, and repairs. We also provide true 24-hour emergency service. We make every effort to ensure that we complete the job on time, to a level that meets or surpasses industry standards.
Call (905) 525-7470 or email info@citywindow.com today for a free estimate. With a team like ours in Hamilton, glass repairs can be affordable and satisfactory. We are excited to see how we might help you improve your business through our exceptional services!
With our 10,000 square foot state-of-the-art fabrication centre, together with our professional team of estimators, coordinators, fabricators and certified, insured glass installers City Window & Glass can promptly respond to requests for proposals with consideration for competitive pricing and realistic closing dates. Consistent with delivery schedules, we make every effort to ensure that the job is completed on time, to a level that meets or surpasses industry standards. As well, City Window & Glass is the largestProperty Management Consultant Company in the region. We do it all! And we do it well!
Commercial customers and contractors have come to rely on City Window & Glass for our experience in engineering and installing commercial glass applications. We handle glass in the large quantities and sizes necessary for commercial installation and repair. Such ability to anticipate our customers' needs and then follow through on promises, has won us the loyalty of many general contractors in the area. Our focus is on providing the highest quality materials and workmanship available. We are insured and can provide our own professional installers in order to provide optimal quality control.
We promise commercial customers usually same-day service. Our staff understands the importance of immediate response to commercial breakage, service technicians are on call at all times. With a round-the-clock answering service, we are ready to make your property secure in the middle of the night and follow up with a permanent replacement at the time or the next day.
Look to City Window & Glass for clear expertise. As regional leaders, we have the history, the product lines, the technical/design support and the resourceful staff to meet your needs. We have excellent references as well as outstanding relationships with our suppliers.

From new storefronts, display windows, glass and automatic doors or mirrors, City Window & Glass can give your business the facelift that makes a real competitive difference.
Please call us for a free estimate and you'll see just how affordable it is to make significant improvements to your business. You'll find our staff friendly, professional and our prices competitive. We look forward to working with you on your next project.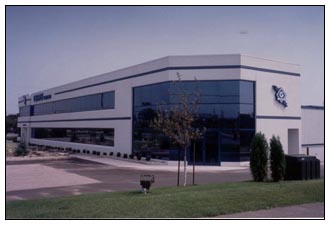 Gerrie Electric Burlington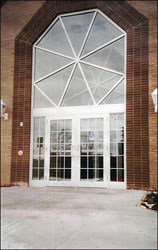 The Church of Jesus Christ of Latter-day Saints, Stoney Creek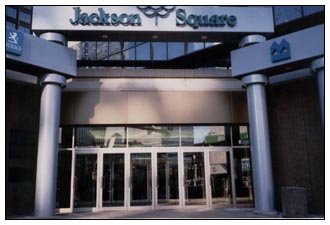 Jackson Square Main Entrance
Our Partners

Leader of Architectural Aluminum Building Products and Systems for the Commercial Construction Industry in North America. City Window & Glass has been a proud authorized Kawneer dealer since 1988.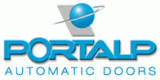 Protalp Automatic Doors is a world leader in the design and manufacturing of automatic doors since 1962.

International Union of Painters and Allied Trades Our installers (Journeymen Glaziers) are certified members of International Union of Painters and Allied Trades